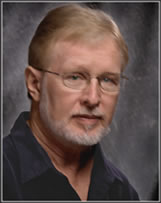 I began my love affair with photography at the age of fourteen. After receiving an education in advertising design and marketing from Mohawk Valley Community College, I moved on to the Rochester Institute of Technology where I learned more about the art and business of photography. Now with a head full of ideas and heart brimming with determination, I set out to begin my career
in advertising.

After fifteen years as the sole proprietor of Hyde Advertising, I merged my business with a larger agency and settled into the position of creative director. Because of my strong independent nature, it wasn't too many years before I set out on my own again.

In 1991, I launched a streamlined version of Hyde Advertising called Bryan Hyde Design and soon found myself reunited with my first love... photography. This was triggered by a visit to the deserts of the Southwest where I directed the photography for a large catalog. I was immediately captivated by the scenery and returned again and again to capture it on film. In 2005, I was introduced to another gem, this time in the southwest corner of New York State, called Chautauqua.

I quickly accumulated an extensive collection of photographs and began selling them along with several lines of note cards in both Chautauqua and the Southwest. With every year that passes, I find myself broadening my offerings and last year, I expanded my product line to include the Finger Lakes Region of New York State. Today I enjoy offering clients my graphic design services, as well as new and unique product lines that showcase my photographic illustrations.
Bryan Hyde, Graphic Designer and Photographer